Transforming a "Negative Climate" into Positive, Productive & Playful Communication, Collaboration and Coordination: Discovering Focused and Fun Tools and Techniques
In a 24/7, rapidly changing, always on, "do more with less" world, not surprisingly, individual stress and interpersonal tension can influence the organizational climate. It's harder to sustain morale and to forge cooperative and productive working relationships and partnerships. The key is to create a safe atmosphere where meaningful issues can be engaged in a collaborative spirit – people get a chance to express their different viewpoints, feel heard, be open to a more positive perspective, and can engage in genuine give and take. And when the learning-sharing atmosphere can also be thought-provoking and fun, then bridges can transcend barriers. Not an easy task…still have no fear, Mark Gorkin, MSW, LICSW, the "Stress Doc" ™, acclaimed speaker and team building consultant, is here with his mix of dynamic ideas and discussion as well as interactive, inspiring and FUN group exercises. You'll discover techniques for letting go, disarming self-defeating power struggles, building trust while transforming negative feedback into positive engagement, use a conflict problem-solving model to identify and address "communication breakdowns" and participate in the Doc's unique positive team/community building, 3-D – Team Discussion-Drawing-Diversity Exercise.
------------------
Objectives
A. The Dynamics of Negativity and Power Struggles
1. Personal, Interpersonal and Org. Culture Signs of Negativity Exercise
2. Disarming Negative Struggles and Trust-Building Exercise

B. Transforming Negative Conflict into Positive Collaboration
1. Thomas-Kilmann Conflict Inventory: Conflict Resolution – Negative and Positive Styles
2. "Communication/Culture Breakdown" Exercise

C. Building a Positive and Creative Culture/Community
1. Turning Negativity Barriers into Bridges: 3-D – Team Discussion-Drawing-Diversity Exercise
2. Save the Retreat: "Take Home" Analysis and Future Problem-Solving Steps

So seek the "higher power" of Stress Doc humor: May the Force and Farce Be with You!
Don't miss your appointment with the Stress Doc!
Mark Gorkin, MSW, LICSW, "The Stress Doc" ™, a Licensed Clinical Social Worker, is a one-of-a-kind "Motivational Humorist & Team Communication Catalyst." The "Doc" is an acclaimed keynote and kickoff speaker known for his interactive, inspiring and FUN speaking and workshop programs. The "Stress Doc" is also a team building and organizational development consultant for a variety of govt. agencies, corporations and non-profits. And he is AOL's "Online Psychohumorist" ™. Mark is an Adjunct Professor at Northern VA (NOVA) Community College and currently he is leading "Stress, Team Building and Humor" programs for the 1st Cavalry and 4th Infantry Divisions and Brigades, at Ft. Hood, Texas and Ft. Leonard Wood, MO. A former Stress and Conflict Consultant for the US Postal Service, the Stress Doc is the author of Practice Safe Stress and of The Four Faces of Anger. See his award-winning, USA Today Online "HotSite" -- www.stressdoc.com -- called a "workplace resource" by National Public Radio (NPR).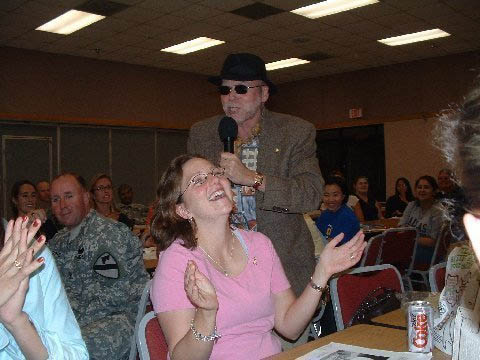 U.S. Army -- Family Readiness Group (FRG)
3rd Brigade Combat Team
1st Cavalry Division
FT. Hood, TX
[Practice Safe Stress program for 150 spouse and service personnel; the brigade has been sending men to Iraq; FRG wanted an "uplifting program" for the home front. Have been asked to come back in the Spring as the soldiers transition back to their families.]

Nov. 1, 2006

Mark,

Thank you again for your fabulous workshop! Everyone I have spoken with today thoroughly enjoyed it.

I'm not sure what will happen with the gal you spoke with from 3rd Corps, but I'm sure if it is something she means to pursue that she will be in touch. She has my info as well so I can direct her your way if she contacts me.

Once again, I thank you from the bottom of my heart. The Stress Doc presentation was everything I had hoped it would be. I have some nice shots and will forward them along after I do a bit of editing....

Take care and hope you had a smooth trip home. Enjoy your upcoming travels!

Sincerely,

Laurie

Laurie Dunlop
lkdunlop@hotmail.com
Program Coordinator
----------------

Mark,

Great presentation this week. We needed that. Laurie was so right in bringing you down. Looking forward to hearing from you.

Larry Phelps

COL Larry Phelps
Commander, 1CD Rear
Work: 254-287-3782
Every Day...Better
"Managing Everything in the Rear, so that 1CD Can Focus Forward."
------------------------