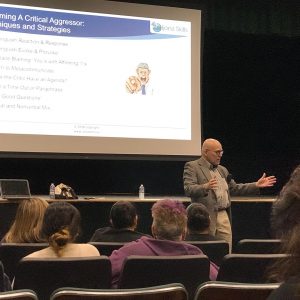 Fremont H.S. School District, San Jose, California; 2.5-hour workshop on "Transforming Conflict into Positive Team Problem-Solving," 45 Union and Management Staff, Annual Training Day; 2-hour Management Team Building Session
The speaker we engaged for our department's annual training day was truly an unexpected uplifting experience for all.
Mark Gorkin, the SressDoc, psycho – humorist created an all day training on communication and collaboration skills that was packed full of entertainment as well as expert training.
Some staff comments were:
"Thank you for arranging this, It was the best seminar we've ever had!"; "It was the most fun we've ever had at a work training"; "I learned so much and loved listening to the StressDoc, the time went so fast, it was never boring!"
Mark's humor and speaking skill inspired the audience of 45 union and management staff so much that at our lunch break with the School Board members I was asked why the staff were all smiling and in such a good mood!My boss even commented on how the staff were all so happy as they came out of the seminar.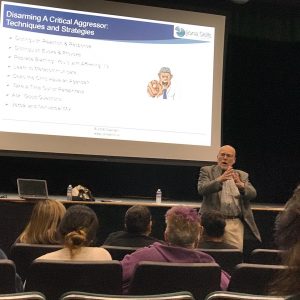 The training event was a great success as Mark engaged the staff with humor and grace creating an impactful and positive learning experience for my whole team.
We loved the Stress Doc and would invite him to come back again anytime.  I highly recommend this speaker for team building exercises, improving staff collaboration and morale.